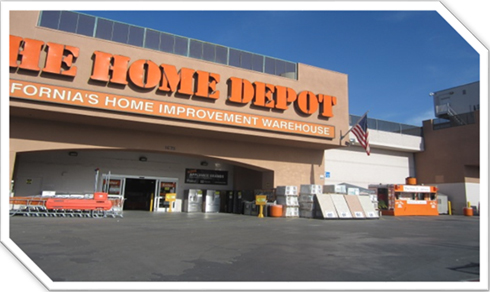 The Wilshire-Union Center
1600 Wilshire Blvd, Westlake Los Angeles, CA
The Wilshire-Union Center is a ± 200,000 sq ft Community Shopping Center located at 1600 Wilshire Blvd and 1700 6th Street, in the Westlake District of Los Angeles, west of Downtown Los Angeles. The center consists of almost two full city blocks bounded by Wilshire Blvd on the south, 6th Street to the north, Union Ave to the east and Burlington Ave to the west. The Center consists of approximately 9.5 acres of land and is dissected in the middele running east to west, by Shatto Street which is now the main drive entrance from Union Ave into the street level portion of the center that fronts on Wilshire Blvd. The center is anchored by Home Depot, one of three main anchors, which is oriented towards the Wilshire Blvd frontage along with a McDonalds drive thru pad that sits mid-block between Union Street and Burlington Street also on the Wilshire Blvd frontage and a Starbucks Warehouse Shoe Sale Pad that sits at the nw corner of Wishre & Union Ave. Food 4 Less and Rite Aid which are the centers other two anchors, sit on top of the Home Dept Store, facing and fronting on the 6th Streetside of the center which sits roughly 27 feet higher than the Wilshire Blvd side of the Center. The center is located half way between Downtown Los Angeles and MacArthur Park. The center also has a large lower level parking field forbothemployee parking and overflow customer parking, which sits below the Home Depot street level deck. The center is part of Downtown LA's CityWest district.
The center's complete tenant roster consists of:
For additional general or leasing information on this center, contact Owner Developer Fred Leeds Properties.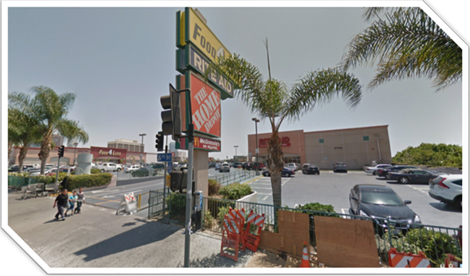 6th Street Frontage with Food 4 less & Rite Aid stores, sitting on the roof of the Home Depot store below.
The Wilshire-Union Center
Food 4 Less to Open Store in Downtown Westlake District, Price-Impact Supermarket Chain to Join Los Angeles City
Councilman Edward Reyes in Ceremony to Dedicate New Shopping Plaza
LOS ANGELES, Oct. 24 /PRNewswire/ — Food 4 Less, the nation's largest price impact supermarket chain, continues to make good on its promise to bring the finest in quality and variety at everyday low prices to inner-city Los Angeles. The Compton-based supermarket company will celebrate the opening of its newest price-impact, warehouse-format store in Los Angeles' downtown Westlake District on Wednesday, November 14 at 8 a.m.
The new 57,500 square-foot Food 4 Less is located at 1700 West 6th Street in Los Angeles.It is one of the anchors of the new Wilshire-Union Center, which is the Westlake District's first major retail development in more than 40 years. The new store will be open to serve customer needs daily from 6 a.m. to 12 midnight.
"We are very pleased to cast a vote of confidence in Los Angeles' Westlake District with this major investment in the community," said Food 4 Less President Dave Hirz. "Our new store is bringing sorely needed shopping convenience, services and jobs to a neighborhood that has been underserved. At the new Wilshire-Union Center Food 4 Less, our goal is to offer our customers the best selection and the highest quality foods at exceptional value."
In anticipation of the opening of the new Food 4 Less, the supermarket chain will participate in a dedication ceremony for the Wilshire-Union Center at 10 a.m. on October 25. In addition to Food 4 Less, the shopping center will feature a Home Depot and a Rite Aid drug store. Los Angeles City Councilman Edward Reyes will join the developer and company representatives for the dedication ceremony.
The new Food 4 Less store will be the first supermarket to open in the Westlake District in more than two decades. The store is expected to help boost the area's economic vitality and attract additional residential and commercial development.
More than 100 full-time and part-time members will be employed at the new store. About 60 staff members will be newly hired from the community and 40 are transferring from existing Food 4 Less stores in Los Angeles. The transferred Food 4 Less members will be replaced in their previous stores by an equal number of new-hires from the community.
To make customers feel at home, the majority of employees at the new Food 4 Less store will be bilingual.
Featuring a state-of-the-art store design, the new Wilshire-Union Center Food 4 Less will offer supermarket quality with a diverse selection of products, destination departments and customer services — all at the lowest prices in town.
"We are very excited about the opportunity to open our newest Food 4 Less store in the Wilshire-Union shopping center," said Hirz. "We look forward to introducing Food 4 Less' special brand of friendly service to the community. We're sure that customers will enjoy the great selection of groceries, as well as all of the added services we will be offering at our new store."
Shoppers visiting the new store will discover high quality fresh fruits and vegetables, meats and poultry, and a grocery department stocked with thousands of products at Food 4 Less' low everyday prices. They will also enjoy the store's large club pack section and famous "Wall of Values," featuring many name-brand items at special low prices.
In the spirit of offering shoppers a true, one-stop shopping experience, the new Wilshire-Union Center Food 4 Less will also feature several specialty departments, including a fresh deli/bakery with a delicious selection of deli meats and cheeses, party trays, freshly-baked breads and decorated cakes. There will also be a hot foods area offering fresh-from-the-oven, ready-to-serve roasted chicken.
In addition, the new store will boast a unique Mexican-style "Carniceria" full-service meat and seafood department. This full-staffed department will feature a large selection of fresh meats, poultry and seafood.
To round out the one-stop-shopping experience, the store will stock an extensive selection of competitively priced office supplies, pet products, small appliances, and automotive supplies.
To serve customers, the store boasts 10 checkstands and offers a wide range of special services, including postage stamps, motorized shopping carts for shoppers with mobility impairments and specially designed shopping carts with infant carriers. The modern store also features state-of-the-art equipment, energy-efficient lighting and environmentally safe refrigeration.
Wilshire-Union Center shoppers are sure to enjoy veteran Food 4 Less Store Director Carlos Tapia, who has been with the company for more than 20 years. Tapia has managed several Food 4 Less stores in Los Angeles. He most recently managed a Food 4 Less in Highland Park.
"I'm thrilled about the great opportunity I have been given to manage the new Wilshire-Union Center store. This store offers everything and more of what customers are looking for in a supermarket," said Tapia. "We are eager to serve the needs of our customers and to be the best supermarket in the area."
In celebration of the store's grand opening, the company's non-profit arm, The Ralphs/Food 4 Less Foundation, is joining with other businesses in the new Wilshire-Union Center, including Home Depot and Rite Aid, to provide a joint $4,500 donation to the Los Angeles Chapter of the American Red Cross. Hirz welcomed the opportunity to assist the community.
"We believe in being an active and supportive member of the community," he said. "It is our intention to be a good corporate citizen in the Westlake District. We are open to new ways to meet community needs and to participate in community initiatives."
In addition to the grand opening celebration for the Wilshire-Union Center, Food 4 Less will hold its own grand opening event to mark the opening of its new store on November 14.
"The Food 4 Less family is very pleased to be opening our newest supermarket in the Westlake District of Los Angeles," said Hirz. "We invite residents to come out and see our newest store when it opens on November 14. We are committed to providing superior customer service and look forward to serving the community for many years to come.
"Food 4 Less operates 108 price-impact, warehouse-style stores under the banners Food 4 Less in Southern California and Las Vegas, Nevada, and Foods Co in Northern California, from its headquarters in Compton, California. Food 4 Less is a division of The Kroger Co., (NYSE: KR), one of the nation's largest retail grocery chains, headquartered in Cincinnati, Ohio.
For further information, please contact Terry O'Neil of Food 4 Less Price-Impact Stores.